The Supreme Court Library
In March 2005, on my first (and last) visit to the U.S. Supreme Court Library, with librarian Brian Stiglmeier's help, I was able to browse their small collection of early transcripts and duplicate a few of them. All the copies I made are available under Transcripts.
In addition, the Library gave me a document titled "Oral Arguments Available in the U.S. Supreme Court Library Prior to the 1968 Term" (the handwritten notations are mine). A list of the cases in that 2005 document have been reproduced below.
Sadly, shortly after my visit in 2005, the Supreme Court Library closed for remodeling, and when it reopened, it was no longer open to the public. If you take a tour of the Supreme Court, they will permit you to peer into the library through a pane of glass, but even on a guided tour, the public isn't permitted in the library. It has become an enclave for the exclusive use of employees, members of the Supreme Court Bar, and other "privileged" guests – not exactly the sort of openness one might hope for from our own Federal government.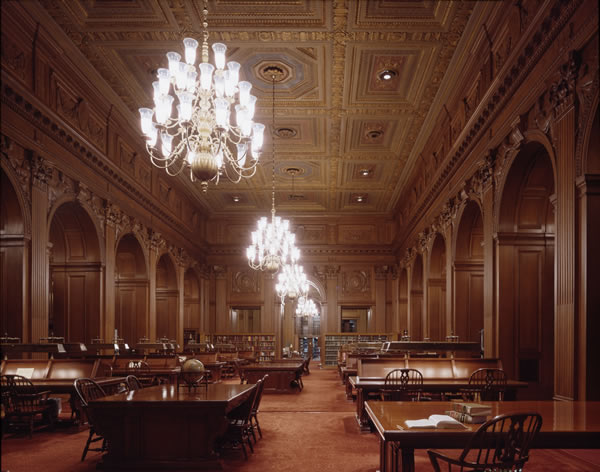 In recent years, the Supreme Court Library has posted all its transcripts from the 1968 Term onward, as well as historical copies of the Journal of the Supreme Court of the United States. They haven't yet added any of the pre-1968 transcripts in their possession, but this is a welcome trend.
However, I suspect these digitization efforts are primarily an attempt to deflect any criticism of the Library's "closed door" policy, because the more materials they can claim are available either on their website or at other public institutions, the more they probably think their restrictive policy is somehow defensible. In my humble opinion, it is not.
---
NOTE: According to the Supreme Court Historical Society website, "By special written arrangement with the Librarian of the Court, access to the Library is also available to visiting scholars in need of materials uniquely available in the Library's collection."
In other words, if you jump through a series of undefined hoops and can demonstrate that whatever you're looking for is not available anywhere else, then maybe, just maybe, you'll be allowed to visit the library – or at least be permitted to wait at the door while someone else looks for you.
Oral Arguments Available in the U.S. Supreme Court Library Prior to the 1968 Term
A few notes about the following list, from observations I made at the time:
Just because a case is on the list doesn't mean the Library still has it. For example, I asked for a 1903 case – Northern Securities v. United States, 193 U.S. 197 (Case No. 277) – and all Brian could tell me was that it wasn't there.
Some of their transcripts, such as Youngstown v. Sawyer, are nothing more than copies from "Landmark Briefs and Arguments". Since that argument predates the Court's audio recording system, a formal transcript by a court reporter must have been produced, but apparently the Library no longer has it.
Other transcripts are 2nd or 3rd generation copies; for example, Brian showed me their Brown v. Board of Education transcripts: poor quality light-purple copies made from long-lost originals.
A small number of transcripts going back as far as 1844 are available, but they are in a special collection – "The Elbridge Thomas Gerry Collection" – which I was not allowed to see on short notice.
Note that not every case in the list represents a distinct transcript, because some were consolidated for oral argument. Moreover, not every transcript in the list is a unique holding of the Supreme Court Library; most of them are also available on microfiche (eg, the University Publications of America microfiche collection), while others are available in the "Landmark Briefs and Arguments" collection (eg, Adamson v. California, Ashwander v. Tennessee Valley Authority, etc). I've made an effort to highlight any cases below that fall outside those collections and therefore may be a unique holding.
It's also possible that many of the following transcripts are unique insofar as they differ from what's available on microfiche, because many of the UPA transcripts were recreated after the fact, by transcribing Supreme Court audio tapes deposited at the National Archives, whereas transcripts in the Supreme Court Library's possession are often copies produced by a court reporter.
See Transcripts for further discussion.
AARON V. COOPER, 357 U.S. 566 (October Term 1957) No. 1095
ACHILLI V. UNITED STATES, 353 U.S. 373 (October Term 1946) No. 430 & 834
ADAMSON V. CALIFORNIA, 332 U.S. 46,784 (October Term 1946) No. 102
AIRCRAFT & D. EQUIPMENT CORP. V. HIRSCH, 331 U.S. 752, 332 U.S. 752 (October Term 1947) No. 95
ALABAMA V. TEXAS, 347 U.S. 272 (October Term 1953) Blank original
ALLEGHANY CORP. V. BRESWICK CO., 363 U.S. 151 (October Term 1956) No. 36
ALLRED V. UNITED STATES, 334 U.S. 131 (October Term 1947) No. 79
AMERICAN COMMERCIAL LINES, INC. V. LOUISVILLE & N.R. CO. 392 U.S. 571 (October Term 1967) No. 797
AMERICAN DIST. TEL. CO. V. UNITED STATES, 384 U.S. 563 (October Term 1965) No. 73
AMERICAN FEDERATION OF MUSICIANS V. CARROLL, 391 U.S. 99 (October Term 1967) No. 309
AMERICAN SOCIETY OF TRAVEL AGENTS, INC. V. PAN AMERICAN WORLD AIRWAYS, 391 U.S. 461 (October Term 1967) No. 800
AMERICAN THEATERS ASSOC. V. UNITED STATES, 334 U.S. 131 (October Term 1947) No. 79
AMERICAN TRUCKING ASSOC. V. LOUISVILLE & N.R. CO., 392 U.S. 571 (October Term 1967) No. 797
AMERICAN WATERWAYS OPERATORS, INC. V. LOUISVILLE & N.R. CO., 392 U.S. 571 (October Term 1967) No. 797
ANGELET V. FAY, 381 U.S. 654 (October Term 1964) No. 578
ARIZONA V. CALIFORNIA, Original No. 8 368 U.S. 950 (1961), 370 U.S. 906 (1961), 370 U.S. 930 (1961), 373 U.S. 546 (1962), 375 U.S. 892 (1963), 376 U.S. 340 (1963)
ARKANSAS V. TEXAS, 346 U.S. 368 (October Term 1953) Blank original
ARMSTRONG V. UNITED STATES, 182 U.S. 243 (October Term 1900) No. 509 *note: also found in serial set vol. 4171
ASHWANDER V. TENNESSEE VALLEY AUTHORITY, 297 U.S. 288 (October Term 1935) Nos. 403 & 404
ASSOCIATED INDUSTRIES V. DEPARTMENT OF LABOR (N.Y.), 299 U.S. 515 (October Term 1936) No. 64
ASSOCIATED PRESS, INTERNATIONAL NEWS SERVICE V. NLRB, 301 U.S. 103 (October Term 1936) No. 365 *note: also found in serial set vol. 10099
ATLANTIC COAST LINE R. CO. V. BROTHERHOOD OF R. TRAINMEN et al., 385 U.S. 20 (October Term 1966) No. 220
ATLANTIC REFINING CO. V. FEDERAL TRADE COMMISSION, 381 U.S. 357 (October Term 1964) No. 292
ATLANTIC REFINING CO. V. PUBLIC SERVICE COMMISSION OF NEW YORK, 360 U.S. 378 (October Term 1958) No. 518
AUTOMATIC CANTEEN CO. V. FEDERAL TRADE COMMISSION, 346 U.S. 61 (October Term 1952) No. 89
AUTOMATIC FIRE ALARM CO. V. UNITED STATES, 384 U.S. 563 (October Term 1965) No. 77
AUTOMATIC RADIO MFG. CO. V. HAZELTINE RESEARCH, INC., 339 U.S. 827 (October Term 1949) No. 455
AVENT V. NORTH CAROLINA, 373 U.S. 375 (October Term 1962) No. 11
BAKER, WEEKS & CO. V. BRESWICK & CO., 353 U.S. 151 (October Term 1956) No. 36
BAKER V. CARR, 369 U.S. 186 (October Term 1960) No. 103
BALTIMORE & O.R. CO. V. BOSTON & M.R. CO., 373 U.S. 372 (October Term 1962) No. 97
BALTIMORE & O.R. CO. V. UNITED STATES, 386 U.S. 372 (October Term 1966) No. 642
BALTIMORE & O.R. CO. V. UNITED STATES, 389 U.S. 486 (October Term 1967) Nos. 778, 779, 830 etc. consolidated
BARR V. COLUMBIA, 378 U.S. 146 (October Term 1963) No. 9
BARROWS V. JACKSON, 346 U.S. 249 (October Term 1952) No. 517
BATES V. ILLINOIS C.R. CO., 1 BLACK 204 (December Term 1861) IN: Gerry, Elbridge Thomas, comp. Law arguments… [1649-1881] v.4 arguments by William Curtis Noyes. ALSO IN: Gerry, Elbridge Thomas, 1837-1927 comp. pamphlets… v.16.
BAZLEY V. COMMISSIONER OF INTERNAL REVIEW, 329 U.S. 701, 331 U.S. 737 (October Term 1946); 332 U.S. 752 (October Term 1947) No. 287
BECK V. WASHINGTON, 369 U.S. 541 (October Term 1961) No. 40
BELL V. MARYLAND, 378 U.S. 226 (October Term 1963) No. 12
BENZ V. COMPANIA NAVIERA HIDALGO, S.A., 353 U.S. 138 (October Term 1956) No. 204
BLAU, IRVING V. UNITED STATES, 340 U.S. 159 (October Term 1950) No. 20
BLAU, PATRICIA V. UNITED STATES, 340 U.S. 332 (October Term 1950) No. 20
BOARD OF EDUCATION V. ALLEN, 392 U.S. 236 (October Term 1967) No. 660
BIORE V. GREYHOUND CORP., 376 U.S. 473 (October Term 1963) No. 77
BOLLING V. SHARPE, 349 U.S. 294 (October Term 1954) Original No. 4
BOOK NAMED `JOHN CLELAND'S MEMOIRS OF A WOMAN OF PLEASURE' V. ATTY. GEN., 383 U.S. 413 (October Term 1965) No. 368
BOSTON & MAINE CORP. V. UNITED STATES, 389 U.S. 486 (October Term 1967) Nos. 778, 779, 830, etc. consolidated
BOUIE V. COLUMBIA, 378 U.S. 347 (October Term 1963) No. 10
BRENNER V. MANSON, 383 U.S. 519 (October Term 1965) No. 58
BRIDGES V. UNITED STATES, 346 U.S. 209 (October Term 1952) No. 548
BRIGGS V. ELLIOT, 349 U.S. 294 (October Term 1954) No. 2
BROTHERHOOD OF LOCOMOTIVE ENGINEERS, et. al. V. CHICAGO, R.I. & P.R. CO., 382 U.S. 423 (October Term 1965) No. 69
BROTHERHOOD OF MAINTENANCE OF WAY EMPLOYEES V. UNITED STATES, 366 U.S. 169 (October Term 1960) No. 681
BROWN V. BOARD OF EDUCATION, 349 U.S. 294 (October Term 1954) No. 1
BROWN SHOE CO. V. UNITED STATES, 370 U.S. 294 (October Term 1961) No. 4
BURSTYN V. WILSON, 343 U.S. 495 (October Term 1951) No. 522
C & C SUPER CORP. V. UNITED STATES, 371 U.S. 38 (October Term 1962) No. 42
CALIFORNIA V. EL PASO NATURAL GAS COMPANY, 386 U.S. 129 (October Term 1966) No. 4
CALIFORNIA V. FEDERAL POWER COMMISSION, 373 U.S. 294 (October Term 1962) No. 72
CALIFORNIA V. LO-VACA GATHERING COMPANY, 379 U.S. 366 (October Term 1964) No. 46
CALIFORNIA V. STEWART, 384 U.S. 436 (October Term 1965) No. 584
CALMAR, INC. V. COOK CHEMICAL CO., 383 U.S. 1 (October Term 1965) No. 11
CALUMET HARBOR TERMINALS, INC. V. NORFOLK & W.R. CO., 385 U.S. 57 (October Term 1966) No. 15
CAMMARANO V. UNITED STATES, 358 U.S. 498 (October Term 1958) No. 29
CAMPBELL V. UNITED STATES, 385 U.S. 293 (October Term 1966) No. 32
CARDONA V. POWER, 384 U.S. 672 (October Term 1965) No. 673
CARMICHAEL V. GULF STATES PAPER CORP., 301 U.S. 495 (October Term 1936) No. 797 *also found in serial set v. 10100
CARMICHAEL V. SOUTHERN COAL & COKE CO., 301 U.S. 495 (October Term 1936) No. 724 *also found in serial set v. 10100
CARROLL V. AMERICAN FEDERATION OF MUSICIANS, 391 U.S. 99 (October Term 1967) No. 309
CARTER V. CARTER COAL COMPANY, 298 U.S. 238 (October Term 1935) Nos. 636, 649, 650, 651 *also see serial set vol. 10016
CASCADE NATURAL GAS CORP. V. EL PASO NATURAL GAS, 386 U.S. 129 (October Term 1966) No. 4
CHAMBERLIN (W.H.H.) V. ANDREWS, 299 U.S. 515 (October Term 1936) No. 49
CHARLES C. STEWARD MACHINE CO. V. DAVIS, 301 U.S. 548 (October Term 1936) No. 837 *note: also found in serial set vol. 10100
CHESAPEAKE & O.R. CO. V. UNITED STATES, 330 U.S. 806 (October Term 1946) No. 255
CHICAGO & E.I.R. CO. V. UNITED STATES, 386 U.S. 372 (October Term 1966) No. 815
CHICAGO & NORTH WESTERN R. CO. V. ATCHISON, T. & S.F.R. CO., 387 U.S. 326 (October Term 1966) No. 8
CHICAGO & NORTH WESTERN R. CO. V. CHICAGO, M. ST. P. & P.R. CO., 380 U.S. 448 (October Term 1964) No. 21
CITIES SERVICE GAS CO. V. PEERLESS OIL & GAS CO., 340 U.S. 179 (October Term 1950) No. 153
CIVIL AERONAUTICS BOARD V. PAN AMERICAN WORLD AIRWAYS, INC., 391 U.S. 461 (October Term 1967) No. 800
COLGATE-PALMOLIVE CO. V. COOK CHEMICAL CO., 383 U.S. 1 (October Term 1965) No. 11
COLUMBIA PICTURES CORP. V. UNITED STATES, 334 U.S. 131 (October Term 1947) No. 79
COMMISSIONER OF INTERNAL REVENUE V. CHURCH, 335 U.S. 632 (October Term 1948) No. 5
COMMISSIONER OF INTERNAL REVENUE V. MERRITT, 380 U.S. 624 (October Term 1964) No. 134
COOPER V. AARON, 358 U.S. 1 (October Term 1958) No. 1 misc.
COSTELLO V. UNITED STATES, 350 U.S. 359 (October Term 1955) No. 72
CROSSMAN V. UNITED STATES, 182 U.S. 221 (October Term 1900) No. 340
DAIRY QUEEN, INC. V. WOOD, 369 U.S. 469 (October Term 1961) No. 244
DAVIS V. COUNTY SCHOOL BOARD OF PRINCE EDWARD COUNTY, 349 U.S. 294 (October Term 1954) No. 3
DAVIS V. NORTH CAROLINA, 384 U.S. 737 (October Term 1965) No. 815
DELAWARE & H.R. CORP., CLARK V. UNITED STATES, 386 U.S. 372 (October Term 1966) No. 680
DELIMA V. BIDWELL, 182 U.S. 1 (October Term 1900) No. 456 *also found in serial set vol. 4171
DOHIHARA V. MACARTHUR, 338 U.S. 197 (October Term 1948) No. 240
DOOLEY V. UNITED STATES, 182 U.S. 222 (October Term 1900) No. 501 *also found in serial set vol. 4171
DOOLEY V. UNITED STATES, 183 U.S. 151 (October Term 1900) No. 502 *note: bound in with Records & Briefs v. 37A. Also found in serial set v. 4171
DOWD (CHARLES) BOX CO., INC. V. COURTNEY, et al., 368 U.S. 502 (October Term 1961) No. 33
DOWNES V. BIDWELL, 182 U.S. 244 (October Term 1900) No. 507 *also found in serial set vol. 4171
EASTERN R. PRESIDENTS CONFERENCE V. NOERR MOTOR FREIGHT, INC., 365 U.S. 127 (October Term 1960) No. 50
ERIE-LACKAWANNA R. CO. V. UNITED STATES, 386 U.S. 272 (October Term 1966) No. 691
ERIE-LACKAWANNA R. CO. V. UNITED STATES, 389 U.S. 486 (October Term 1967) Nos. 778, 779, 830, etc. consolidated
ESTES V. TEXAS, 381 U.S. 532 (October Term 1964) No. 256
EWING V. MYTINGER & CASSELBERRY, 339 U.S. 594 (October Term 1949) No. 568
FAHEY, EX PARTE V. MALLONEE, 332 U.S. 245 (October Term 1946) No. 687
FEDERAL MARITIME COM. V. AKTIEBOLAGET SVENSKA AMERIKA LINTEN, 390 U.S. 238 (October Term 1967) No. 257
FEDERAL POWER COM. V. ARKANSAS POWER & L. CO., 329 U.S. 703, 330 U.S. 802, 856 (October Term 1946) No. 543
FEDERAL POWER COM. V. CALLERY PROPERTIES, INC., 382 U.S. 223 (October Term 1965) No. 21
FEDERAL POWER COM. V. HUNT, 376 U.S. 515 (October Term 1963) No. 273
FEDERAL POWER COM. V. IDAHO POWER CO., 344 U.S. 17 (October Term 1952) No. 12
FEDERAL POWER COM. V. LO-VACA GATHERING CO., 379 U.S. 366 (October Term 1964) No. 46
FEDERAL POWER COM. V. MEMPHIS LIGHT GAS & WATER DIV., 358 U.S. 103 (October Term 1958) No. 23
FEDERAL POWER COM. V. PANHANDLE EASTERN PIPE LINE CO., 337 U.S. 498 (October Term 1948) No. 558
FEDERAL POWER COM. V. SUNRAY DX OIL CO., 391 U.S. 9 (October Term 1967) No. 60
FEDERAL POWER COM. V. TEXACO, INC., 377 U.S. 33 (October Term 1963) No. 386
FEDERAL POWER COM. V. TRANSCONTINENTAL GAS PIPE LINE CORP., 365 U.S. 1 (October Term 1960) No. 45
FEDERAL POWER COMMISSION V. UNITED GAS PIPE LINE CO., 386 U.S. 237 (October Term 1966) No. 127
FEDERAL POWER COM. V. WISCONSIN, 347 U.S. 672 (October Term 1953) No. 280
FEDERAL TRADE COM. V. CEMENT INSTITUTE, 333 U.S. 683 (October Term 1947) No. 23
FEDERAL TRADE COM. V. COLGATE-PALMOLIVE CO., 380 U.S. 374 (October Term 1964) No. 62
FEDERAL TRADE COM. V. CONSOLIDATED FOODS CORP., 380 U.S. 592 (October Term 1964) No. 422
FEDERAL TRADE COM. V. FRED MEYER, INC., 390 U.S. 341 (October Term 1967) No. 27
FEDERAL TRADE COM. V. PROCTER & GAMBLE CO., 386 U.S. 568 (October Term 1966) No. 342
FEDERAL TRADE COM. V. RUBEROID CO., 343 U.S. 470 (October Term 1951) No. 448
FEDERAL TRADE COM. V. STANDARD OIL CO., 355 U.S. 396 (October Term 1957) No. 24
FIBERBOARD PAPER PRODUCTS CORP. V. NLRB, 379 U.S. 203 (October Term 1964) No. 14
FIRST NATIONAL BANK OF ARIZONA V. CITIES SERVICE CO., 391 U.S. 253 (October Term 1967) No. 23 *note: argued as Waldron v. Cities Services Co.
FITZGERALD V. UNITED STATES LINE CO., 374 U.S. 16 (October Term 1962) No. 463
FLAST V. COHEN, 392 U.S. 83 (October Term 1967) No. 416
FLAST V. GARDENER, *see FLAST V. COHEN
FORMAN V. UNITED STATES, 361 U.S. 416 (October Term 1959) No. 43
FORTNIGHTLY CORP. V. UNITED ARTISTS TELEVISION, INC., 392 U.S. 390 (October Term 1967) No. 618
FOURTEEN DIAMOND RINGS V. UNITED STATES, 183 U.S. 176 (October Term 1901) No. 153 *note: also found in serial set v. 4171
FREEDMAN V. MARYLAND, 380 U.S. 51 (October Term 1964) No. 69
GALLICK V. BALTIMORE & OHIO R. CO., 372 U.S. 108 (October Term 1962) No. 76
GARDNER V. NEW JERSEY, No. 92 328 U.S. 850, 876 (October Term 1946); 329 U.S. 565 (October Term 1946); 330 U.S. 853 (October Term 1946)
GARDNER V. LOUISIANA, 368 U.S. 157 (October Term 1961) No. 26
GEBHART V. BELTON, 349 U.S. 294 (October Term 1954) No. 5
GEORGIA V. RACHEL, 384 U.S. 780 (October Term 1965) No. 147
GEORGIA R. & BKG. CO. V. REDWINE, 342 U.S. 299 (October Term 1951) No. 1
GILBERT V. CALIFORNIA, 388 U.S. 263 (October Term 1966) No. 223
GINZBURG V. UNITED STATES, 383 U.S. 463 (October Term 1965) No. 42
GLORE, F & CO. V. UNITED STATES, 380 U.S. 806 (October Term 1946) No. 256
GOBER V. BIRMINGHAM, 373 U.S. 374 (October Term 1962) No. 66
GOETZ V. UNITED STATES, 182 U.S. 221 (October Term 1900) No. 340 *note: also found in serial set v. 4171
GOODYEAR TIRE & RUBBER CO. V. FEDERAL TRADE COM., 381 U.S. 357 (October Term 1964) no. 292
GORI V. UNITED STATES, 367 U.S. 364 (October Term 1960) No. 486
GOSS V. BOARD OF EDUCATION, 373 U.S. 683 (October Term 1962) No. 217
GRAHAM V. JOHN DEERE CO., 383 U.S. 1 (October Term 1965) No. 11
GREEN V. COUNTY SCHOOL BOARD OF NEW KENT COUNTY, 391 U.S. 430 (October Term 1967) No. 695
GREENBERG V. UNITED STATES, 342 U.S. 917 (October Term 1951) No. 461
GREENWOOD V. PEACOCK, 384 U.S. 808 (October Term 1965) No. 471
GRIFFIN V. MARYLAND, 378 U.S. 130 (October Term 1963) No. 26 –rehearing. (Library also has October Term 1962 argument No. 6)
GRINNELL CORP. V. UNITED STATES, 384 U.S. 563 (October Term 1965) No. 73
GROSSO V. UNITED STATES, 390 U.S. 62 (October Term 1967) No. 12
GROVES V. SLAUGHTER, 15 Pet. 449 (January Term 1841) In: Gerry, Elbridge Thomas, comp. law arguments… [1649-1841] v. 4. Arguments by Robert James Walker
GRUSS (OSCAR) & SON V. UNITED STATES, 389 U.S. 486 (October Term 1967) Nos. 778, 779, 830 etc., consolidated.
HAMM V. ROCKHILL, 379 U.S. 306 (October Term 1964) No. 2
HANNAH V. LARCHE, 363 U.S. 420 (October Term 1959) No. 549
HANNAH V. SLAWSON, 363 U.S. 420 (October Term 1959) No. 549
HARDIN V. CHICAGO, R.I. & P.R. CO., 382 U.S. 423 (October Term 1965) No. 69
HARRISON V. NATIONAL ASSOC. FOR THE ADVANCEMENT OF COLORED PEOPLE, INC., 360 U.S. 167 (October Term 1958) No. 127
HAZELTINE RESEARCH, INC. V. BRENNER (LADD), 382 U.S. 252 (October Term 1965) No. 57
HAYNES V. UNITED STATES, 390 U.S. 85 (October Term 1967) No. 236
HELVERING V. DAVIS, 301 U.S. 619 (October Term 1936) No. 910 *also found in serial set v. 10104 Senate Doc. 71
HEWITT-ROBINS, INC. V. EASTERN FREIGHT WAYS, INC., 371 U.S. 84 (October Term 1962) no. 37
HIROTA V. MACARTHUR, 338 U.S. 197 (October Term 1948) No. 239
HOFFA V. UNITED STATES, 385 U.S. 293 (October Term 1966) No. 32
HOFFMAN V. UNITED STATES, 341 U.S. 479 (October Term 1950) No. 513
HOLMES ELECTRIC PROTECTIVE CO. V. UNITED STATES, 384 U.S. 563 (October Term 1965) No. 73
HUGHES TOOL CO. V. TRANSWORLD AIRLINES, INC., 380 U.S. 248 (October Term 1964) No. 443
HUGHES TOOL CO. V. TRANSWORLD AIRLINES, INC., 380 U.S. 249 (October Term 1964) No. 501
HEART OF ATLANTA MOTEL, INC. V. UNITED STATES, 379 U.S. 241 (October Term 1964) No. 515
ILLINOIS CENT. R. CO. V. NORFOLK & W.R. CO., 385 U.S. 57 (October Term 1966) No. 15
INCRES S.S. CO. V. INTERNATIONAL MARITIME WORKERS UNION, 372 U.S. 24 (October Term 1962) No. 33
INTERNATIONAL UNION U.A.A. & A.I.W. V. FAFNIR BEARING CO., 382 U.S. 205 (October Term 1965) No. 18
INTERNATIONAL UNION U.A.A. & A.I.W. V. SCOFIELD, 382 U.S. 205 (October Term 1965) no. 18
INTERSTATE CIRCUIT, INC. V. DALLAS, 390 U.S. 676 (October Term 1967) No. 56
INTERSTATE COMMERCE COM. V. BOSTON & M.R. CO., 373 U.S. 372 (October Term 1962) No. 97
INTERSTATE COMMERCE COM. V. BRESWICK & CO., 353 U.S. 151 (October Term 1956) No. 36
INTERSTATE COMMERCE COM. V. LOUISVILLE & N.R. CO., 392 U.S. 571 (October Term 1967) No. 797
INTERSTATE NATURAL GAS CO. V. FEDERAL POWER COM., 329 U.S. 802, 330 U.S. 852, 331 U.S. 682, 332 U.S. 785 (October terms 1946 & 1947) No. 733
IVANHOE IRRIG. DIST. V. MCCRACKEN, 357 U.S. 275 (October Term 1957) No. 122
JACOBELLIS V. OHIO, 373 U.S. 901 (October Term 1962) No. 164 *Reheard & decided as 378 U.S. 184 (October Term 1963) No. 11
JOHN HANCOCK MUTUAL LIFE INSURANCE CO. V. UNITED STATES, 389 U.S. 486 (October Term 1967) Nos. 778, 779, 830 etc. consolidated
JOHNSON V. NEW JERSEY, 384 U.S. 719 (October Term 1965) No. 762
JOHNSTON V. UNITED STATES, 351 U.S. 215 (October Term 1955) No. 643
KATZENBACH V. MORGAN, 384 U.S. 641 (October Term 1965) No. 847
KIDO V. MACARTHUR, 338 U.S. 197 (October Term 1948) No. 248
KING V. UNITED STATES, 385 U.S. 293 (October Term 1966) No. 32
KINGSLEY INTERNATIONAL PICTURES CORP. V. REGENTS OF UNIVERSITY OF NEW YORK STATE, 360 U.S. 684 (October Term 1958) No. 394
KINSELLA V. KRUEGER, 351 U.S. 470 (October Term 1955) No. 713 *reheard as 354 U.S. 1 (October Term 1956) No. 713 (bound with Oct. Term 1955 No. 713)
KLOR'S INC. V. BROADWAY-HALE STORES, INC., 359 U.S. 207 (October Term 1958) No. 76
LEITER MINERALS, INC. V. UNITED STATES, 352 U.S. 220 (October Term 1956) No. 26
LEVIN, RE V. MISSISSIPPI RIVER FUEL CORP., 386 U.S. 162 (October Term 1966) No. 352
LEWIS V. UNITED STATES, 385 U.S. 206 (October Term 1966) No. 36
LINCOLN FEDERAL LABOR UNION V. NORTH WESTERN IRON & METAL CO., 335 U.S. 525 (October Term 1948) No. 47
LINK V. WABASH R. CO., 370 U.S. 626 (October Term 1961) No. 422
LINN V. UNITED PLANT GUARD WORKERS, 383 U.S. 53 (October Term 1965) no. 45
LOCAL NO. 8-6 OIL, CHEMICAL & ATOMIC WORKERS INTERNATIONAL UNION AFL-CIO V. MISSOURI, 361 U.S. 363 (October Term 1959) No. 42
LOCAL 174 TEAMSTERS, CHAUFFEURS, WAREHOUSEMEN & HELPERS OF AMERICA V. LUCAS FLOOR CO., 369 U.S. 95 (October Term 1961) No. 50
LOEW'S, INC. V. UNITED STATES, 334 U.S. 131 (October Term 1947) No. 79
LOEW'S, INC. V. UNITED STATES, 371 U.S. 38 (October Term 1962) No. 42
LOMBARD V.LOUISIANA, 373 U.S. 267 (October Term 1962) No. 58
LONG ISLAND LIGHTING CO. V. FEDERAL POWER COM., 373 U.S. 294 (October Term 1962) No. 72
LUPPER V. ARKANSAS, 379 U.S. 306 (October Term 1964) No. 5
MADERA IRRIG. DIST. V. ALBONICO, 357 U.S. 275 (October Term 1957) No. 122
MADERA IRRIG. DIST. V. STEINER, 357 U.S. 275 (October Term 1957) No. 122
MANDEVILLE ISLAND FARMS V. AMERICAN CRYSTAL SUGAR CO., 334 U.S. 219 (October Term 1947) No. 75
MANEJA V. WAIALUA AGRICULTURAL CO. LTD., 349 U.S. 254 (October Term 1954) No. 357
MARCHETTI V. UNITED STATES, 390 U.S. 39 (October Term 1967) No. 2
MARK (CLATON) & CO. V. FEDERAL TRADE COM., 336 U.S. 956 (October Term 1948) No. 464
MARYLAND PORT AUTHORITY V. BOSTON & M.R. CO., 373 U.S. 372 (October Term 1962) No. 97
MCCRACKAN V. HAYWARD, 2 How 608 (January Term 1844) *In: Gerry, Elbridge Thomas, comp. Law Arguments [1649-1881] v. 3
MEMPHIS LIGHT, GAS, & WATER DIV. V. UNITED GAS PIPE LINE CO., 386 U.S. 237 (October Term 1966) No. 127
MENOMINEE TRIBE OF INDIANS V. UNITED STATES, 391 U.S. 404 (October Term 1967) No. 187
MICHIGAN NAT. BANK V. MICHIGAN, 365 U.S. 467 (October Term 1960) No. 155
MIDWEST TELEVISION, INC. V. SOUTHWESTERN CABLE CO., 392 U.S. 157 (October Term 1967) No. 363
MILLIGAN, EX PARTE, 4 Wall 2 (December Term 1866) In: Gerry, Elbridge Thomas, comp. Law Arguments [1649-1881] v. 3 *see also KF5063.M5, the MILLIGAN CASE.
MIRANDA V. ARIZONA, 384 U.S. 436 (October Term 1965) No. 759
MISHKIN V. NEW YORK, 383 U.S. 502 (October Term 1965) No. 49
MONROE V. BOARD OF COMRS., 391 U.S. 43 (October Term 1967) No. 695
MCCULLOCK V. SOCIEDAD NACIONAL DE MARINEROS DE HONDURAS, 372 U.S. 10 (October Term 1962) No. 107
MCLEOD V. EMPRESA HONDURENA DE VAPORES, 372 U.S. 10 (October Term 1962) No. 107
MUKEY V. REITMAN, (1966 term) No. 24
NATIONAL BELLAS HESS, INC. V. DEPARTMENT OF REVENUE, 386 U.S. 753 (October Term 1966) No. 241
NATIONAL COAL ASSOC. V. TRANSCONTINENTAL GAS PIPELINE CORP., 365 U.S. 1 (October Term 1960) No. 45
NATIONAL LEAD CO. V. UNITED STATES, 332 U.S. 751 (October Term 1946) No. 90
NATIONAL MARITIME UNION V. EMPRESA HONDURA DE VAPORES, 372 U.S. 10 (October Term 1962) No. 107
NEW YORK CITY BOARD OF ELECTIONS V. MORGAN, 384 U.S. 641 (October Term 1965) No. 847
NEW YORK, N.H. & H.R. CO. V. UNITED STATES, 389 U.S. 486 (October Term 1967) Nos. 778, 779, 830 etc. consolidated
NEW YORK TIMES CO. V. SULLIVAN, 376 U.S. 254 (October Term 1963) No. 39
NLRB V. ATKINS (E.C.) & CO., 329 U.S. 710, 331 U.S. 398, 868 (October Term 1946) No. 419
NLRB V. DONNELLY GARMENT CO., 330 U.S. 219 (October Term 1946) No. 38
NLRB V. GENERAL MOTORS CORP. 373 U.S. 734 (October Term 1962) No. 404
NLRB V. FRIEDMAN-HARRY MARKS CLOTHING CO., 301 U.S. 58 (October Term 1936) Nos. 422, 423 *note: also found in serial set v. 10099
NLRB V. FRUEHAUF TRAILER CO., 301 U.S. 49 (October Term 1936) Nos. 420, 421 *note: also found in serial set v. 10099
NLRB V. JONES & L. STEEL CORP., 301 U.S. 1 (October Term 1936) No. 419 *note: also found in serial set v. 10099
NLRB V. JONES & L STEEL CORP., 331 U.S. 416, 868, 332 U.S. 823 (October Term 1946) No. 418
NLRB V. PITTSBURGH S.S. CO., 340 U.S. 498 (October Term 1950) No. 42
NLRB V. TOWER (A.J.), 329 U.S. 324 (October Term 1946) No. 60
NORFOLK & W.R. CO. V. UNITED STATES, 389 U.S. 486 (October Term 1967) Nos. 778, 779, 830 etc. consolidated
NORMAN V. BALTIMORE-OHIO R. CO., 294 U.S. 240 (October Term 1934) no. 270
NORTHERN SECURITIES V. UNITED STATES, 193 U.S. 197 (October Term 1903) No. 277
NORTZ V. UNITED STATES, 294 U.S. 317 (October Term 1934) No. 531
NOTO V. UNITED STATES, 367 U.S. 290 (October Term 1960) No. 9
NYE & NISSEN V. UNITED STATES, 336 U.S. 613 (October Term 1948) No. 228
OCEAN DRILLING & EXPLORATION CO. V. FEDERAL POWER COM., 382 U.S. 223 (October Term 1965) No. 21
OHIO V. KENTUCKY, original no. 27, 384 U.S. 982 (October Term 1965); 385 U.S. 803 (October Term 1966); 404 U.S. 933 (October Term 1971); 406 U.S. 915 (October Term 1971); 409 U.S. 974, 1102 (October Term 1972); 410 U.S. 641 (October Term 1973); 414 U.S. 989 (October Term 1973); 416 U.S. 965 (October Term 1974)
OIL, CHEMICAL & ATOMIC WORKERS INTERNATIONAL UNION V. MISSOURI, 361 U.S. 363 (October Term 1959) No. 42
OPPER V. UNITED STATES, 348 U.S. 84 (October Term 1954) No. 49
ORDER OF R. TELEGRAPHERS V. CHICAGO & N.W.R. CO., 362 U.S. 330 (October Term 1960) No. 100
OTIS & CO., KAISER-FRAIZER CORP. V. UNITED STATES, 330 U.S. 806 (October Term 1946) No. 254
PACKARD MOTOR CAR CO., GEM MFG. CO. V. NLRB, 329 U.S. 707, 330 U.S. 485 (October Term 1946) No. 658
PAN AMERICAN WORLD AIRWAYS, INC. V. UNITED STATES, 371 U.S. 296 (October Term 1962) No. 23
PARAGON JEWELL COAL CO. V. COMMISSIONER OF INTERNAL REVENUE, 380 U.S. 624 (October Term 1964) No. 134
PARAMOUNT PICTURES, INC. V. UNITED STATES, 334 U.S. 131 (October Term 1947) No. 79
PARKER V. ILLINOIS, 333 U.S. 571 (October Term 1947) No. 270
PARKS V. UNITED STATES, 385 U.S. 293 (October Term 1966) No. 32
PEACOCK V. GREENWOOD, 384 U.S. 808 (October Term 1965) No. 471
PENFIELD CO. V. SECURITIES & EXCHANGE COMMISSION, 330 U.S. 585 (October Term 1946) No. 453
PENNSYLVANIA PUBLIC UTILITY COM. V. FEDERAL POWER COM., 343 U.S. 414 (October 1951) No. 428
PENNSYLVANIA WATER & POWER CO. V. FEDERAL POWER COM., 343 U.S. 414 (October Term 1951) No. 428
PERMA LIFE MUFFLERS, INC. V. INTERNATIONAL PARTS CORP., 392 U.S. 134 (October Term 1967) No. 733
PERRY V. UNITED STATES, 294 U.S. 330 (October Term 1934) No. 532
PETERS V. HOBBY, 349 U.S. 331 (October Term 1954) No. 376
PETERS V. NEW YORK, 392 U.S. 40 (October Term 1967) No. 74
PETERSON V. GREENVILLE, 373 U.S. 244 (October Term 1962) No. 68
PHILLIPS PETROLEUM CO. V. OKLAHOMA, 340 U.S. 190 (October Term 1950) No. 153
PHILLIPS PETROLEUMM CO. V. WISCONSIN, 347 U.S. 672 (October Term 1953) No. 280
PLATT V. MINNESOTA MINING & MFG. CO., 376 U.S. 240 (October Term 1963) no. 113
POWELL V. TEXAS, 392 U.S. 514 (October Term 1967) No. 405
POWER REACTOR DEVELOPMENT CO. V. INTERNATIONAL UNION OF ELECTRICAL, R. & M.W., 367 U.S. 396 (October Term 1960) No. 315
PRIMA PAINT CORP. V. FLOOD & CONKLIN MFG. CO., 388 U.S. 395 (October Term 1966) No. 343
PUBLIC SERVICE COM. V. CALLERY PROPERTIES, INC., 382 U.S. 223 (October Term 1965) No. 21
QUANTITY OF COPIES OF BOOKS V. KANSAS, 378 U.S. 205 (October Term 1963) No. 449
RADIANT BURNERS, INC. V. PEOPLES GAS LIGHT & COKE CO., 364 U.S. 656 (October Term 1960) No. 73
RADIO CORP. OF AMERICA V. UNITED STATES, 341 U.S. 412 (October Term 1950) No. 565
RAILROAD TRANSFER SERVICE, INC. V. CHICAGO, 386 U.S. 351 (October Term 1966) No. 209
RAMSPECK V. FEDERAL TRIAL EXAMINERS CONFERENCE, 345 U.S. 128 (October Term 1952) No. 278
RANEY V. BOARD OF EDUCATION, 391 U.S. 443 (October Term 1967) No. 695
RAY V. BLAIR, 343 U.S. 214 (October Term 1951) No. 649
READING CO. V. UNITED STATES, 389 U.S. 486 (October Term 1967) Nos. 778, 779, 830 etc. consolidated
REGULAR COMMON CONFERENCE OF AMERICAN TRUCKING ASSOCIATIONS, INC. V. TEXAS & PACIFIC MOTOR TRANSPORT CO., 340 U.S. 450 (October Term 1950) No. 38
REID V. COVERT, 351 U.S. 487 (October Term 1955) No. 701 Reheard 354 U.S. 1 (October Term 1956) No. 701 (bound with October Term 1955, No. 701)
RESERVE LIFE INSURANCE CO. V. BOWERS, 380 U.S. 258 (October Term 1964) No. 96
RETAIL CLERKS INTERNATIONAL ASSOC., AMALGAMATED CLOTHING WORKERS V. SCHERMERHORN, 373 U.S. 746 (October Term 1962) No. 368
RHODE ISLAND V. LOUISIANA, 347 U.S. 272 (October Term 1953) Blank original
RICHFIELD OIL CORP. V. UNITED STATES, 343 U.S. 922 (October Term 1951) No. 395
ROBINSON V. FLORIDA, 378 U.S. 153 (October Term 1963) No. 60
ROGERS V. UNITED STATES, 340 U.S. 367 (October Term 1950) No. 20
ROSENBLATT V. BAER, 383 U.S. 75 (October Term 1965) No. 38
RUDOLPH V. UNITED STATES, 370 U.S. 269 (October Term 1961) No. 396
ROMAN V. SINCOCK, 377 U.S. 695 (October Term 1963) No. 307
RUBEROID CO. V. FEDERAL TRADE COM., 343 U.S. 470 (October Term 1951) No. 448
RYAN V. UNITED STATES, 379 U.S. 61 (October Term 1964) No. 12
ST. JOE PAPER CO. V. ATLANTIC COAST LINE R. CO., 347 U.S. 298 (October Term 1953) No. 24
SAN DIEGO BLDG. TRADES COUNCIL V. GARMON, 359 U.S. 236 (October Term 1958) No. 66
SANTA BARBARA COUNTY WATER AGENCY V. BALAAM, 357 U.S. 275 (October Term 1957) No. 122
SAXON V. BANK OF NEW ORLEANS & TRUST CO., 379 U.S. 411 (October Term 1964) No. 26
SCALES V. UNITED STATES, 367 U.S. 203 (October Term 1960) No. 1
SCHINE CHAIN THEATRES, INC. V. UNITED STATES, 334 U.S. 110 (October Term 1947) No. 10
SCRANTON V. UNITED STATES, 386 U.S. 372 (October Term 1966) No. 813
SCRANTON V. UNITED STATES, 389 U.S. 486 (October Term 1967) Nos. 778, 779, 830 etc. consolidated
SECURITIES & EXCHANGE COM. V. NEW ENGLAND ELECTRIC SYSTEM, 390 U.S. 207 (October Term 1967) No. 305
SHAPP, OLIVER V. UNITED STATES, 386 U.S. 372 (October Term 1966) No. 814
SHUTTLESWORTH V. BIRMINGHAM, 373 U.S. 262 (October Term 1962) No. 68
SIBRON V. NEW YORK, 392 U.S. 40 (October Term 1967) No. 63
SLOWCHOWER V. BOARD OF HIGHER EDUCATION OF NEW YORK CITY, 350 U.S. 551 (October Term 1955) No. 23
SOUTHERN CALIFORNIA EDISON CO. V. EL PASO NATURAL GAS CO., 386 U.S. 129 (October Term 1966) No. 4
SOUTHERN CALIFORNIA GAS CO. V. LO-VACA GATHERING CO., 379 U.S. 366 (October Term 1964) No. 47
SPECTOR MOTOR SERVICE, INC. V. MCLAUGHLIN, 340 U.S. 602 (October Term 1950) No. 132
SPECTOR MOTOR SERVICE, INC. V. O'CONNOR, 340 U.S. 602 (October Term 1950) No. 132
SPEVAK V. KLEIN, 385 U.S. 511 (October Term 1966) No. 62
SPIEGEL V. COMMISSIONER OF INTERNAL REVENUE, 335 U.S. 701 (October Term 1948) No. 3
STANDARD OIL CO. V. FEDERAL TRADE COM., 340 U.S. 231 (October Term 1950) No. 1
STATE BD. OF INS. V. TODD SHIPYARDS. CORP., 370 U.S. 451 (October Term 1961) No. 144
STERNS (E.C.) & CO. V. ANDREWS, 299 U.S. 515 (October Term 1936) No. 50
STEELE V. BULOVA WATCH CO., 344 U.S. 280 (October Term 1952) No. 38
STEFANELL V. MINARD, 342 U.S. 117 (October Term 1951) No. 2
STRAUSS (F.) & SON, INC. V. COMMISSIONER OF INTERNAL REVENUE, 358 U.S. 498 (October Term 1958) No. 50
SUNKIST GROWERS, INC. V. WINCKLER & SMITH CITRUS PRODUCTS CO., 370 U.S. 19 (October Term 1961) No. 241
SUSSER V. CARVEL CORP., 381 U.S. 125 (October Term 1964) No. 355
SWIFT & CO. V. UNITED STATES, 343 U.S. 373 (October Term 1951) No. 282
SWITZERLAND CHEESE ASSOC. V. E. HORNE'S MARKET, INC., 385 U.S. 23 (October Term 1966) No. 42
TACOMA V. TAXPAYERS OF TACOMA, 357 U.S. 320 (October Term 1957) No. 509
TAMPA ELECTRIC CO. V. NASHVILLE COAL CO., 365 U.S. 320 (October Term 1960) No. 87
TEAMSTERS, CHAUFFEURS, WAREHOUSEMEN, & HELPERS OF AMERICA V. LUCAS FLOUR CO., 369 U.S. 95 (October Term 1961) No. 50
TENNESSEE GAS TRANSMISSION CO. V. PUBLIC SERVICE COM. OF NEW YORK, 360 U.S. 378 (October Term 1958) No. 518
TERRY V. OHIO, 392 U.S. 1 (October Term 1967) No. 67
TEXAS V. NEW MEXICO, et al., 352 U.S. 991 (October Term 1955) No. 9 original
TEXAS V. WISCONSIN, 347 U.S. 672 (October Term 1953) No. 280
TEXAS GAS TRANSMISSION CO. V. MEMPHIS LIGHT, GAS & WATER DIV., 358 U.S. 103 (October Term 1958) No. 23
THOMPSON V. LOUISVILLE, 362 U.S. 199 (October Term 1959) No. 59
TIME, INC. V. HILL, 385 U.S. 374 (October Term 1966) No. 22
TIMES FILM CORP. V. CHICAGO, 365 U.S. 43 (October Term 1960) No. 34
UNITED ARTISTS CORP. V. DALLAS, 390 U.S. 676 (October Term 1967) No. 64
UNITED ARTISTS CORP. V. UNITED STATES, 334 U.S. 131 (October Term 1947) No. 79
UNITED GAS IMPROV. CO. V. CALLERY PROPERTIES, INC., 382 U.S. 223 (October Term 1965) No. 21
UNITED GAS IMPROV. CO. V. CONTINENTAL OIL CO., 381 U.S. 392 (October Term 1964) No. 644
UNITED GAS PIPE LINE CO. V. MEMPHIS LIGHT, GAS & WATER DIV., 358 U.S. 103 (October Term 1958) No. 23
UNITED MINE WORKERS V. ILLINOIS STATE BAR ASSOC., 389 U.S. 217 (October Term 1967) No. 33
UNITED SHOE MACHINERY CORP. V. UNITED STATES, 347 U.S. 521 (October Term 1953) No. 394
UNITED STATES V. ADAMS, 383 U.S. 39 (October Term 1965) No. 55
UNITED STATES V. ATCHISON, T. & S.F.R. CO., 387 U.S. 326 (October Term 1966) No. 8
UNITED STATES V. ATLANTIC REFINING CO., 360 U.S. 19 (October Term 1958) No. 210
UNITED STATES V. BANKERS TRUST CO., 294 U.S. 240 (October Term 1934) Nos. 471 & 472
UNITED STATES V. BARNETT, 376 U.S. 681 (October Term 1963) No. 107
UNITED STATES V. BORDEN CO., 370 U.S. 460 (October Term 1962) No. 439
UNITED STATES V. CALIFORNIA, original no. 5, 375 U.S. 927 (October Term 1963); 381 U.S. 139 (October Term 1964); 382 U.S. 448 (October Term 1965); 382 U.S. 889 (October Term 1965)
UNITED STATES V. CALIFORNIA EASTERN LINE, INC., 348 U.S. 351 (October Term 1954) No. 263
UNITED STATES V. CHAMPLIN REFINING CO., 341 U.S. 290 (October Term 1950) No. 433
UNITED STATES V. COLUMBIA STEEL CO., 334 U.S. 495 (October Term 1947) No. 461
UNITED STATES V. CONTINENTAL CAN CO., 378 U.S. 441 (October Term 1963) No. 367
UNITED STATES V. DIEBOLD, INC., 369 U.S. 654 (October Term 1961) No. 286
UNITED STATES V. DUPONT (E.I.) DE NEMOURS & CO., 353 U.S. 586 (October Term 1956) No. 3
UNITED STATES V. DUPONT (E.I.) DE NEMOURS & CO., 351 U.S. 377 (October Term 1955) No. 5
UNITED STATES V. DUPONT (E.I.) DE NEMOURS & CO., 366 U.S. 316 (October Term 1960) No. 55
UNITED STATES V. EL PASO NATURAL GAS CO., 376 U.S. 651 (October Term 1963) No. 94
UNITED STATES V. EMPLOYING PLASTERERS ASSOC., 347 U.S. 186 (October Term 1953) No. 440
UNITED STATES V. EWELL, 383 U.S. 116 (October Term 1965) No. 29
UNITED STATES V. FELIN (JOHN J.) & CO., 330 U.S. 814 (October Term 1946) No. 862
UNITED STATES V. FIRST CITY NATL. BANK, 386 U.S. 361 (October Term 1966) No. 914
UNITED STATES V. FIRST NATL. BANK & TRUST CO., 376 U.S. 665 (October Term 1963) No. 36
UNITED STATES V. GENERAL MOTORS CORP., 384 U.S. 127 (October Term 1965) No. 46
UNITED STATES V. GRANT (W.T.) CO., 345 U.S. 629 (October Term 1952) No. 532
UNITED STATES V. GREEN, 350 U.S. 415 (October Term 1955) No. 54
UNITED STATES V. GRIFFITH, 334 U.S. 100 (October Term 1947) No. 64
UNITED STATES V. GRINNELL CORP., 384 U.S. 563 (October Term 1965) No. 73
UNITED STATES V. HUCK MFG. CO., 382 U.S. 197 (October Term 1965) No. 8
UNITED STATES V. INTERNATIONAL UNION OF ELECTRICAL R. & M.W., 367 U.S. 396 (October Term 1960) No. 315
UNITED STATES V. INTERNATIONAL UNION, UNITED AUTO A. & A.I.W., 352 U.S. 567 (October Term 1956) No. 44
UNITED STATES V. KOENIG, 369 U.S. 121 (October Term 1961) No. 93
UNITED STATES V. LINE MATERIAL CO., 333 U.S. 287 (October Term 1947) No. 8
UNITED STATES V. LOEW'S, INC., 371 U.S. 38 (October Term 1962) No. 42
UNITED STATES V. LOUISIANA, original no. 9, 394 U.S. 11 (October Term 1968); 394 U.S. 1 (October Term 1968); 394 U.S. 836 (October Term 1968)
UNITED STATES V. LOUISIANA, TEXAS, MISSISSIPPI, ALABAMA, & FLORIDA, still on the docket, Original no. 9
UNITED STATES V. MINKER, 350 U.S. 179 (October Term 1955) No. 35
UNITED STATES V. MISSISSIPPI, 380 U.S. 128 (October Term 1964) No. 73
UNITED STATES V. NATIONAL DAIRY PRODUCTS CORP., 372 U.S. 29 (October Term 1962) No. 18
UNITED STATES V. NORFOLK & W.R. CO., 385 U.S. 57 (October Term 1966) No. 15
UNITED STATES V. PABST BREWING CO., 384 U.S. 546 (October Term 1965) No. 404
UNITED STATES V. PAN AMERICAN WORLD AIRWAYS, INC., 371 U.S. 296 (October Term 1962) No. 23
UNITED STATES V. PARAMOUNT PICTURES, INC., 334 U.S. 131 (October Term 1947) No. 79
UNITED STATES V. PARKE, DAVIS & CO., 362 U.S. 29 (October Term 1959) No. 20
UNITED STATES V. PATTESON, 351 U.S. 215 (October Term 1955) No. 643
UNITED STATES V. PENN-OLIN CHEMICAL CO., 389 U.S. 308 (October Term 1967) No. 26
UNITED STATES V. PENN-OLIN CHEMICAL CO., 378 U.S. 158 (October Term 1963) No. 503
UNITED STATES V. PEWEE COAL CO., INC., 341 U.S. 114 (October Term 1950) No. 168
UNITED STATES V. PHILADELPHIA NATL. BANK, 374 U.S. 321 (October Term 1962) No. 83
UNITED STATES V. PROVIDENT NATL. BANK, 386 U.S. 361 (October Term 1966) No. 972
UNITED STATES V. PULLMAN CO., 330 U.S. 806 (October Term 1946) no. 253
UNITED STATES V. RAGEN, 340 U.S. 462 (October Term 1950) No. 83
UNITED STATES V. REPUBLIC STEEL CORP., 362 U.S. 482 (October Term 1959) No. 56
UNITED STATES V. ROCK ISLAND MOTOR TRANSIT CO., 340 U.S. 419 (October Term 1950) No. 25
UNITED STATES V. SEATRAIN LINES, 329 U.S. 429 (October Term 1946) No. 61
UNITED STATES V. SINGER MFG. CO., 374 U.S. 174 (October Term 1962) No. 438
UNITED STATES V. SOUTHWESTERN CABLE CO., 392 U.S. 157 (October Term 1967) No. 363
UNITED STATES V. TEXAS, original No. 7 still active
UNITED STATES V. TEXAS & P. MOTOR TRANSPORT CO., 340 U.S. 450 (October Term 1950) No. 38
UNITED STATES V. THIRD NATL. BANK, 390 U.S. 171 (October Term 1967) No. 86
UNITED STATES V. THOMAS, 362 U.S. 58 (October Term 1959) No. 667
UNITED STATES V. UNION PACIFIC R. CO., 353 U.S. 112 (October Term 1956) No. 97
UNITED STATES V. UNITED MINE WORKERS, 329 U.S. 708, 330 U.S. 258 (October Term 1946) No. 759
UNITED STATES V. UNITED SHOE MACHINERY CORP., 391 U.S. 244 (October Term 1967) No. 597
UNITED STATES V. UNITED STATES GYPSUM CO., 333 U.S. 364 (October Term 1947) No. 13
UNITED STATES V. UNITED STATES GYPSUM CO., 340 U.S. 76 (October Term 1950) No. 30
UNITED STATES V. VON'S GROCERY CO., 384 U.S. 270 (October Term 1965) No. 303
UNITED STATES V. WELDEN, 377 U.S. 95 (October Term 1963) No. 235
UNITED STATES V. WESTERN PACIFIC R. CO., 352 U.S. 59 (October Term 1956) No. 18
UNITED STATES V. WHEELOCK BROS., INC., 341 U.S. 319 (October Term 1950) No. 169
UNITED STATES V. WISE, 370 U.S. 405 (October Term 1962) No. 488
UNITED STATES V. YELLOW CAB CO., 332 U.S. 218 (October Term 1946) No. 1035
UNITED STATES ex rel QUIRIN V. COX, 317 U.S. 1 (July Special Term 1942) Nos. 1-7 *note: argued as UNITED STATES ex rel BURGER V. COX together with ex parte QUIRIN
UNITED STATES GYPSUM CO. V. NATIONAL GYPSUM CO., 352 U.S. 457 (October Term 1956) No. 11
UNITED STEELWORKERS OF AMERICA V. UNITED STATES, 361 U.S. 39 (October Term 1959) No. 504
UNIVERSAL PICTURES CORP. V. UNITED STATES, 334 U.S. 131 (October Term 1947) no. 79
UTAH PIE CO. V. CONTINENTAL BAKING CO., 386 U.S. 685 (October Term 1966) No. 18
VIGNERA V. NEW YORK, 384 U.S. 436 (October Term 1965) No. 759
VIKING THEATER CORP. V. PARAMOUNT FILM DISTRIBUTING CORP., 378 U.S. 123 (October Term 1963) No. 481
VIRGINIA V. WEST VIRGINIA, 11 Wall 39 (December Term 1870) In: Gerry, Elbridge Thomas, comp. Law Arguments… [1649-1881] v. 4 Argument by Charles James Faulkner.
VIRGINIAN RAILWAY CO. V. SYSTEM FEDERATION, R.E.D., 300 U.S. 515 (October Term 1936) No. 324 *note: also found in serial set vol. 10099
WALKER V. BIRMINGHAM, 388 U.S. 307 (October Term 1966) No. 249
WALKER PROCESS EQUIPMENT, INC. V. FOOD MACHINERY & CHEMICAL CORP., 382 U.S. 172 (October Term 1965) No. 13
WASHINGTON, VIRGINIA & MARYLAND COACH CO. V. N.L.R.B., 301 U.S. 142 (October Term 1936) No. 469 *note: also found in serial set vol. 10099
WATSON V. MEMPHIS, 373 U.S. 526 (October Term 1962) No. 424
WESTOVER V. UNITED STATES, 384 U.S. 436 (October Term 1965) No. 759
WHEELOCK BROS., INC. V. UNITED STATES, 341 U.S. 319 (October Term 1950) No. 169
WHITAKER V. NORTH CAROLINA, 335 U.S. 525 (October Term 1948) No. 34
WEST POINT WHOLESALE GROCERY CO. V. OPELIKA, 354 U.S. 390 (October Term 1956) No. 478
WHITE MOTOR CO. V. UNITED STATES, 372 U.S. 253 (October Term 1962) No. 54
WHITNEY NATL. BANK V. BANK OF NEW ORLEANS & TRUST CO., 379 U.S. 411 (October Term 1964) No. 26
WILEY (JOHN) & SONS, INC. V. LIVINGSTON, 376 U.S. 543 (October Term 1963) No. 91
WILSON V. GIRARD, 354 U.S. 524 (October Term 1956) No. 1103
WIRTZ V. HOTEL, MOTEL, & CLUB EMPLOYEES UNION, 391 U.S. 492 (October Term 1967) No. 891
WISCONSIN V. FEDERAL POWER COM., 373 U.S. 294 (October Term 1962) No. 72
WORLD AIRWAYS, INC. V. NATIONAL MEDIATION BOARD, 391 U.S. 461 (October Term 1967) No. 800
W.M.C.A., INC. V. LOMENZO, 377 U.S. 633 (October Term 1963) No. 20
WRIGHT V. GEORGIA, 373 U.S. 284 (October Term 1962) No. 68
YOUNGSTOWN SHEET & TUBE CO. V. SAWYER, 343 U.S. 579 (October Term 1951) Nos. 744, 745
Written on March 2, 2019